So why Cafe Racers? For a while I set my mode into deep meditation, there are so much talk on Cafe Racer everywhere! Online forums have bundle of them, biker community recapitulate them frequently and new generation converting their ages old lower CC bikes into excellent Cafe Racers. While this really depends on opinion, cafe racers are considered undeniably cool. I shout, Yes cooler than a beaten up ninja 250. and there is less body work to fix when we drop it right? win win for all! For one, there's no mathematics and definition to build a cafe racer . Obviously,  there are certain styling cues often in play, but the design works every other way. For another, you can find builders in UK and then Argentina, Indonesia, India — seriously, they belong everywhere, and each of them have own individuality in term of looks. It's a rolling art scene, and you're invited; this scene is purely DIY (Do It Yourself), and can start just tinkering around in own small home garages with help of neighborhood scarp shops. Today we have a clean Cafe Racer in our bucket, was made of highly cherished Yamaha RX135 by Hindustn Customs of Nagpur.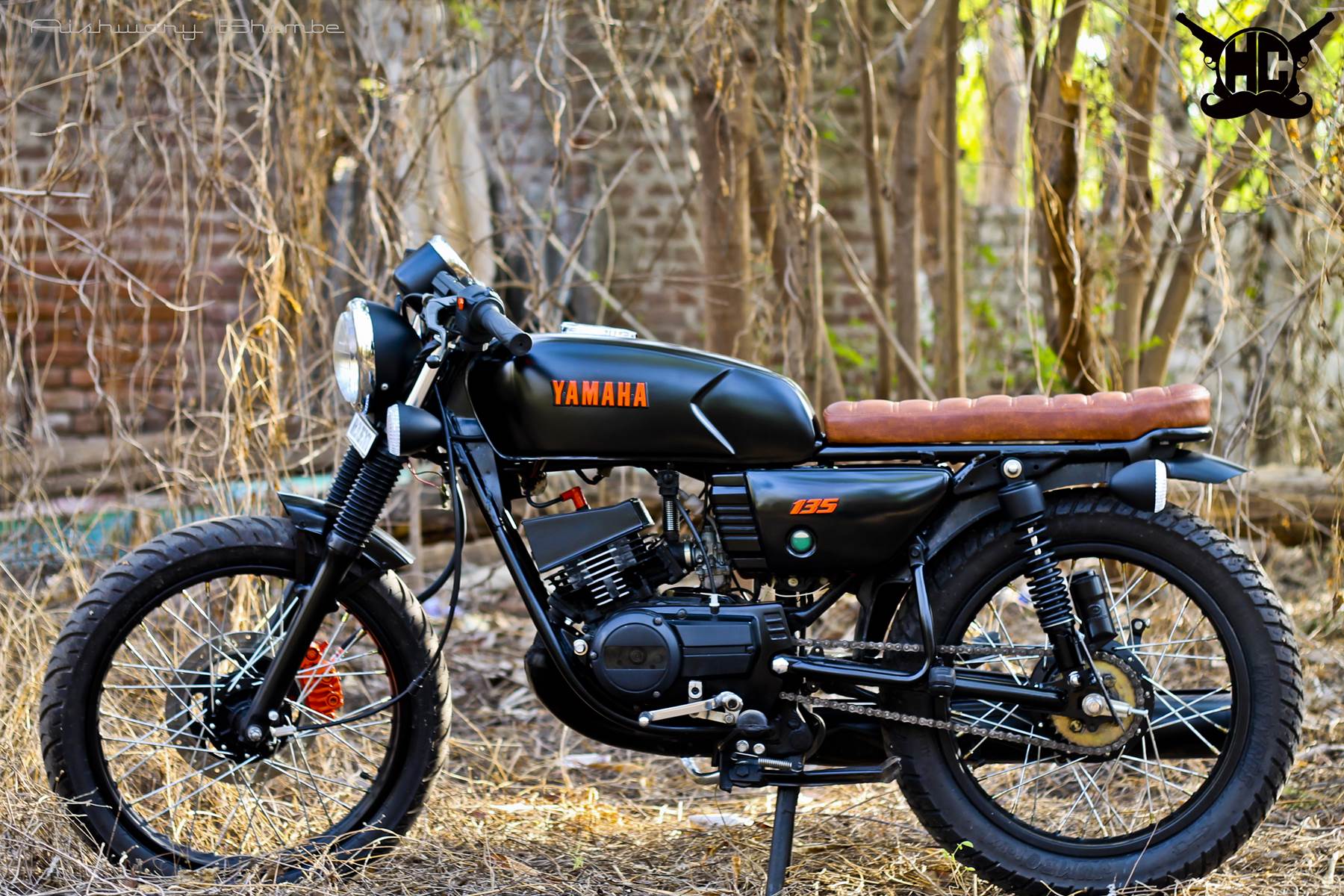 "Here is another cafe racer bike from Hindustan Customs. This is called Amber as it has a touch of Amber color on it. It is a Yamaha RX 135cc, 4 speed, 2002 model bike from Pune. The owner of the bike Mr. Rohit Patne has been searching for a customizer for more than a year and then he finally found Hindustan Customs and trusted them enough to send his bike to them for customization. While sending he was in constant touch with the owner of Hindustan Customs "Animesh Sharan" who is in USA right now for his Master's and controls everything from there. He prepared the design till Rohit was satisfied enough to give his bike to them. After a lot of discussion and brain storming, they decided the design and finalized it.
The bike has been kept simple and elegant. It gives a typical
cafe racer look
and every part of the bike has been design without wasting any space. The
clip-on handles
resembles it's older cousin
RD-350 racing edition
. The seat has been
hand-stitched with leather
. The
tank
has been redesigned as per cafe racer look. The meter has been customized as per matching
Yamaha 
identity. The
indicators
are specially hand made led for the front and the rear has a special
break light
as well as turn light and
parking light
as well. It gives a touch of new technology integrated into a classy design. The rear break is inverted to avoid low height clearance. Overall the bike would surely turn
heads."
Contact
Animesh Sharan
Email : hindustancustom@gmail.com
Sadar, Mount Road, Nagpur, India 440014
Facebook: https://www.facebook.com/Hindustan-Customs-856177947800714
Call: +1 817-903-6405 (The builder is currently in US and reachable via Whatsapp)
Pictures Courtesy: Hindustan Customs
Note : Please mention us (350CC.com) when you contact Hindustan Customs.
Facebook Comments