If you follow the current motorcycle world sense the way I do, one thing you would admit – the hottest talk-of-the-town motorcycle genre right now is the Scrambler style. This stripped down, rugged, vintage look is the latest intoxication in the custom bike building world. The day you realize that you've torn up enough streets and its time to take your road bike for some all-terrain fun from crossing a stream to climbing a muddy hill. And when it comes to customizing a motorcycles into a Scrambler, Bangalore based renowned bike builder, Bulleteer Customs adequately dig their hands there. A Royal Enfield 350cc Classic is the donor bike and like always, resulting a beautiful, immaculate basic Scrambler – Achilles, they named the bike.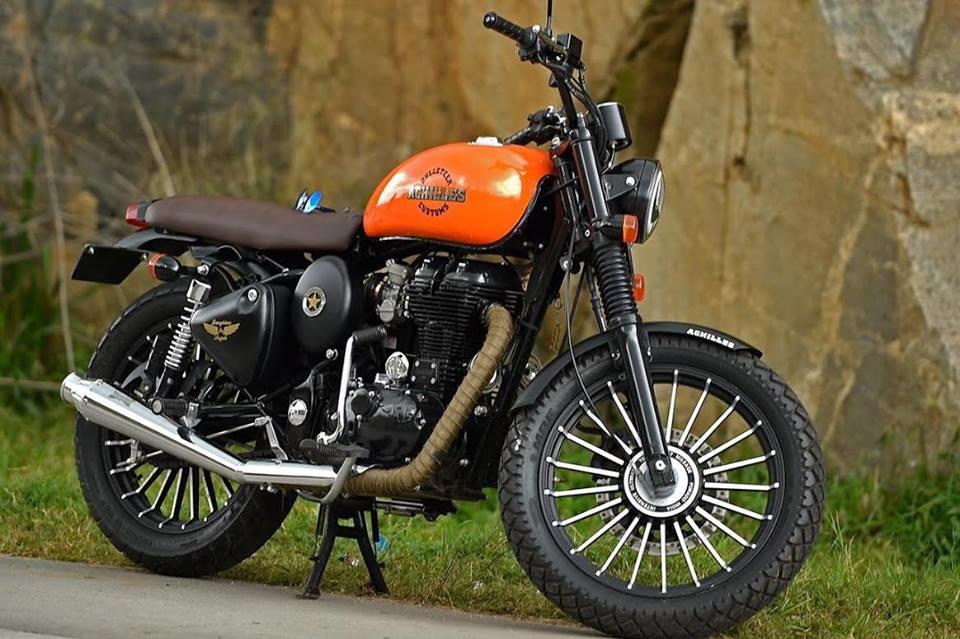 Talking on Achilles , they shared few words, "this is the latest from our growing Scrambler collection. It is a very capable machine just like its predecessors Ladhaki & Magnum. This was built for Dr. Eash , a very special Doctor who just happens to be a very talented Wild Life Photographer and a loving father as well, hope this all-rounder of a bike can do justice to your awesome lifestyle!!"
Contact
Bulleteer Customs
Call : +91-9972862139, +91-9738075289
Bangalore
E-mail : bulleteercustom@gmail.com
Facebook : facebook.com/bulleteer.customs
Photography Courtesy : Bulleteer Customs
Note : Please mention us (350CC.com) when you contact Bulleteer Customs.
Facebook Comments