People have been obsessed with motorcycles since the first motorcycle was created back past. Since then, motorcycle enthusiasts often modify their motorcycles to create the perfect match between the rider and their machine. These modifications can be anything from increasing comfort while riding to increasing performance and maximizing a bike's potential to enhance the look of the bike. Likewise, we have our today's bike – A modified 350cc Royal Enfield Thunderbird of 2015 which is highly inspired by Harley Davidson Iron series, well built by Puranam Designs, make a presence in road – which again, one of extreme sole purpose of modifying a bike.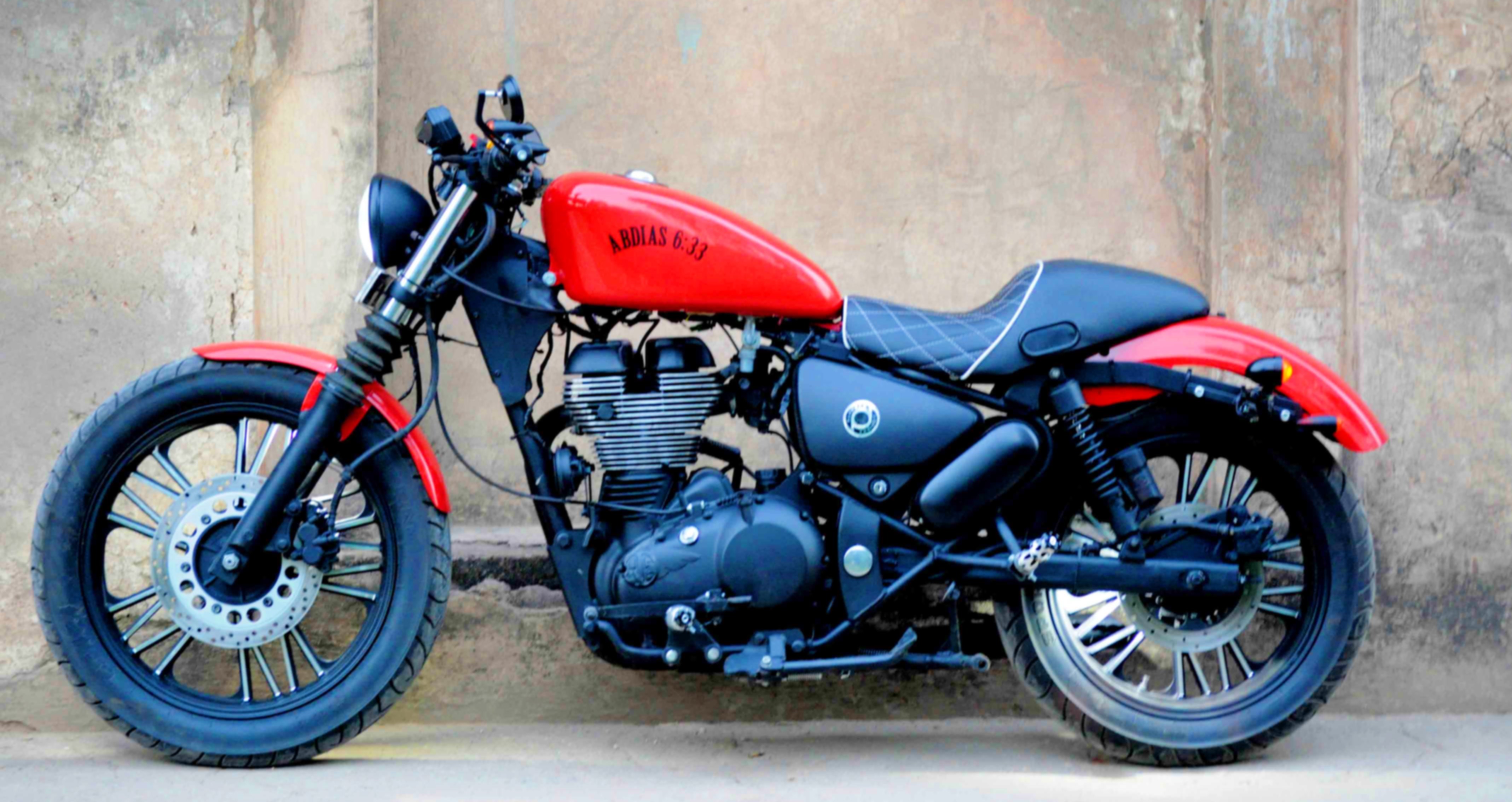 P Santosh Kumar, the key person of the workshop shared few details on the modifications – "Handle bar, petrol tank, short rear and front fenders, Rear rubber completed on 17 inch alloy wheel with a 140 size michelin tyres.The front tyre is on 19 inch with 110 size tyre. On the tool box we have kept it stock with the capsule profile.The number plate is left side mounted with a small tail light. An all metal indicator with a headlight used from the actual harley model. A fantastic ferrari red paint to give an eye catchy appearance.
About the build – No guesses, yes it is highly inspired by the darling of the motorcycles Iron 883. But still couldn't stop from using our own traits to do it. It was a great challenge to mix two seprate Iconic designs and come out with the one that looks good like the original yet doesn't shade away the character of a Bullet. The Headlight, the fenders and prominently the peanut tank illusions you to the American Icon but the Engine bay and the characteristic thump brings back the illusion to a more convinced thought that its a bullet. The matte black and Ferrari red combination on the paint theme hugely compliment the overall creation adding to the premium looks. We hope you fns would love the pictures as much as we loved creating it from a stock TB 2014 …..Let the pictures do the
talking."
Contact
Puranam Design
P Santosh Kumar – 08790176059
Rupanand Pradhan – 09999619004
Official Website | Facebook Page
Email : puranam.designs@gmail.com
Panchsheel, Malviya Nagar,
New Delhi, India
However they are operational from both Delhi and Vizag as well.
Photo and Info : Puranam Designs
Please mention us (350CC.com) when you contact Puranam Designs.
Facebook Comments
---